Jack Grady O'Neil  vocals, acoustic 6-string guitar,

                                                     6-string banjo and mandola

Tom Pehrson and Jack grew up together in San Mateo, CA and were bandmates as children in school. Jack began as a drummer; his grandmother's gift of a 1963 Ludwig kit got him going.  Jack drummed in rock bands until he switched to guitar and folk music in high school. Songwriting began early and gradually, and now holds an important spot in his credentials.  Using originals, he and Bryan Daley worked for 2 years on his first CD, Ancestral Water, which inspired the formation of the band.  His 2nd CD, The Graying of the Temples, is a band endeavor due out this spring.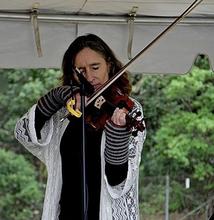 fiddle and vocals Heidi Raine

Heidi was raised on a diet of Suzuki and classical music until, as a teenager, she rebelled. After a 30 year hiatus, she picked up her violin again and since 2010, has been studying with Bay Area fiddler extraordinaire,
Chad Manning
, who is helping her navigate into the deep dark forests of old-time, bluegrass, jazz, improv and swing. Heidi loves to sing, but her children prefer that she doesn't. She's very excited to be playing her new
John Jordan
Electric Violin with the band.
Bryan Daley  acoustic/electric 6/12-string guitar, vocals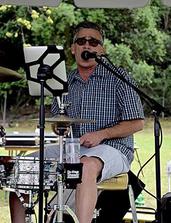 drums and vocals Gerald Turetzky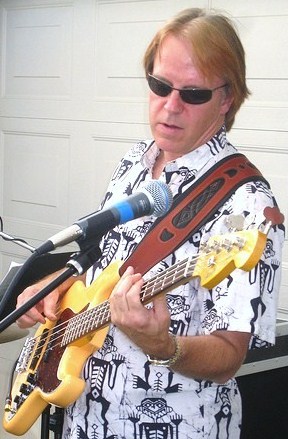 mandolin and resophonic guitar  Tom Pehrson

Gerald Turetzky comes from a long line of Musicians and started drumming at age 5.  He studied Music at San Diego State University and started touring and recording with Trowsers and Borracho y Loco opening up for Ziggy Marley, Third World and Steel Pulse to name a few. Gerald loves all kinds of music and Gerald likes to play fast...

Bryan started his non-professional music career at age 9 when Santa delivered him a drum set.  He really wanted a guitar so he waited until the Beatles arrived (age 12), and was soon developing G.A.S. (Guitar acquisition syndrome). He joined his first band while in the 8th grade.  Wanting to capture his bands performances, he started recording in 1973 when only a 4 track was obtainable. Soon evolving to 8 tracks, he met Jack and recorded the demo tape for his then current band. The first Ancestral Water CD was completed in 2009. Now after 48 tracks he and Jack O'Neil are currently putting finishing touches to the new CD "The Graying of the Temples".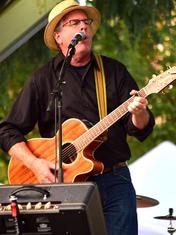 Bill's transcontinental musical journey began in Germany with a guitar his parents brought home from a holiday in Spain. He joined his first band in Frankfurt and continued playing music wherever fortuity led – be it Lebanon, Singapore or California. In Beirut he was part of the 60's music scene that included Stewart Copeland, who went on to form The Police. During his years in Singapore, he played guitar in the band Gwailo, a group of expats that achieved critical acclaim for their Asian-inspired fusion CD entitled "Gecko Sushi." Back in the US, he picked up the bass again to return to his Americana roots.

Centered in Northern California all his life, Tom began playing lap steel Hawaiin style guitar at age 7 eventually migrated to mandolin and spanish guitar.  A fan of all music - he especially likes playing old timey, bluegrass and "dawg" music.